Friendship Cottage Raffle The Great Escape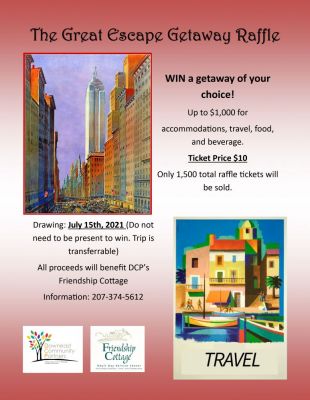 Jul 15, 2021
Purchase tickets from Jan. to July 15th 2021
Friendship Cottage is launching its annual raffle. Tickets cost $10 with the chance to win a $1,000 travel voucher. The voucher can be used to go anywhere you wish and covers the cost of food, drinks, flights, hotel, and so forth.
The raffle drawing will be announce by Star 97.7 radio and take place on July 15, 2021. Participants do not have to be present to win and the award is transferable.
Raffle tickets cannot be sold online. Please contact Anne Ossanna, Program Director at 207-374-5612 or via email Anne.Ossanna@DowneastCommunityPartners.org to purchase and/or sell tickets.