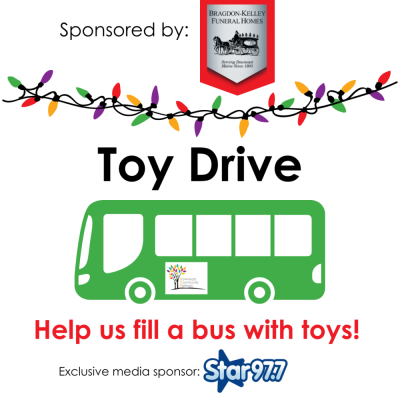 Dec 03, 2022
9:00 AM-3:00 PM
Location: In front of Ellsworth Walmart
Saturday, December 3, DCP is holding a toy drive to help make the holiday season magical for children and families in Hancock and Washington counties. Come help us fill a bus with toys! 
DCP's Toy Drive is generously sponsored by Bragdon-Kelley Funeral Homes.
DCP thanks our exclusive media sponsor—Star 97.7—for their continuing support of the Christmas Magic Toy Drive.
Check out our list of gift ideas here
If you can't join us on December 3, give anytime!
Drop off your donation of toys @ 248 Bucksport Road, Ellsworth or donate to "Christmas Magic" here.
The deadline for donations is December 21.