Announcing the Community Paramedicine Program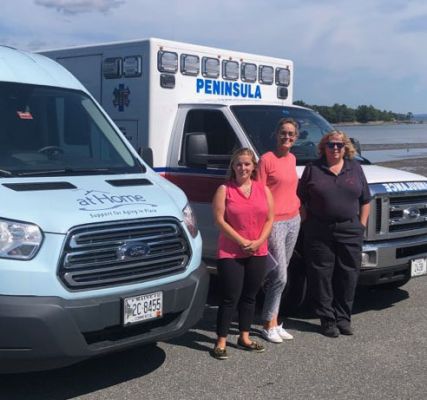 Mon, Sep 9th, 2019
by DCP Staff
Blue Hill, ME: At Home and Peninsula Ambulance Corps are collaborating to offer a Community Paramedicine Program for the seven peninsula towns. The two organizations have been working together for two years to design this new program, which will provide non- emergency coordination of care to area residents, including wellness visits and follow-up care after release from the hospital. "We anticipate that this care will help to avoid re-admittance to the hospital," said Kara Janes LMSW, At Home Program Manager, "We know from experience that the more follow-up care that can be delivered at home following a hospitalization, the better the outcome."
Peninsula Ambulance Corps is collaborating with multiple agencies, including At Home, to provide the Community Paramedicine program.
 For more information about the new service, or At Home, call Kara Janes at 374-5852 or email her at At.Home@downeastcommunitypartners.org. For more information about Peninsula Ambulance Corp, call Alan Henschke or Theresa Cousins at 374-9955.
 At Home is a program of Downeast Community Partners, a 501 c 3 non-profit corporation.