Day Program
at Friendship Cottage
About the Program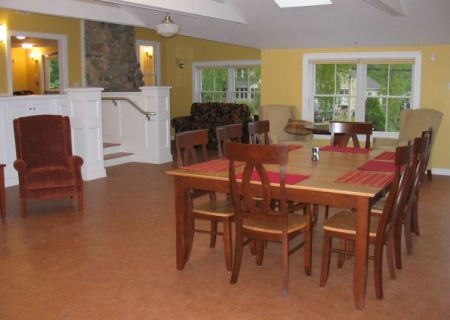 The mission of the Adult Day Services Program is to provide care and socialization for dependent adults in a safe, supportive, and homelike environment.
Friendship Cottage opened in 2008 as a program of Washington Hancock Community Agency (now Downeast Community Partners), thanks to tremendous support from local community members. DCP is proud to be partnering with organizations to improve and expand services for dependent adults and their caregivers.
Every weekday, Friendship Cottage offers a health model Adult Day Service Program of activities, meals, and personal care for older adults who may be physically, mentally, or functionally impaired. Our team of trained professionals and volunteers provides safe, fun, and stimulating activities to move the body and stimulate the mind, such as games, arts and crafts, reminiscing, cards, horticulture, cooking, discussion groups, travelogues, exercise, music, entertainment, and local outings. There is also time for rest and relaxation in our quiet room and a place to meet new friends in our sunny great room.
How We Help
The goal of Friendship Cottage is to help seniors and dependent adults age in place and remain physically active and socially engaged through access to an ADSP. The facility provides a variety of health, social, and supportive services in a safe, protective environment during daytime hours. Friendship Cottage is a licensed, community-based program designed to serve seniors and other adults who may be physically, mentally, or functionally impaired, or who may need companionship or supervision. Designed using a health model, Friendship Cottage offers personal care plans addressing each individual's needs, therapeutic activities, meals, social services, and education. Our trained volunteers complement the professional staff in providing daily care and support services.
A unique aspect of this ADSP is that we offer assistance to the family caregiver through a Caregiver Resource Center and a strong caregiver support group at the same facility. Friendship Cottage seeks to help each participant maintain functional abilities - physical, cognitive, and social - and quality of life while offering their caregivers much-needed respite.
Friendship Cottage is a "community facility," open and inviting to the entire community, that draws its support from the community. All are welcome to participate, regardless of their income level. Friends, family, and community members are encouraged to visit, volunteer, and participate in group activities that enable and encourage those we care for to be active participants in our community.
Veteran Services
The Department of Veterans Affairs accepted our proposal to provide Adult Day Health Care Services to beneficiaries of the Department of Veterans Affairs in October 2008. This acceptance means we have a contract with the VA to provide Adult Day Service to Veterans and the VA reimburses us at a set rate. There was an extensive interview and site visit process in order for Friendship Cottage to be accepted by the VA and we are subject to site visits to ensure we are meeting their specifications.
Financial Assistance
Friendship Cottage is a licensed program that receives funding assistance from Bureau of Elder and Adult Services for consumers who require assistance in paying for this service. To be eligible for adult day services reimbursed directly by Bureau of Elder and Adult Services with state funds, a consumer must meet at least the following requirements:
Be at least 18;
Live in Maine;
Lack sufficient personal and/or financial resources for Adult Day Services;
For an individual have assets of no more than $50,000 or for couples have assets no more than $75,000.
Other requirements may also apply.