Bar Harbor Bank and Trust Supports Elders Services at Downeast Community Partners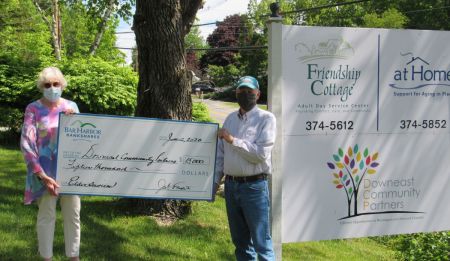 Mon, Jun 15th, 2020
by DCP Staff
Ellsworth, ME: Bar Harbor Bank and Trust announced that it will contribute $15,000 in support of two of Downeast Community Partners' (DCP) Elder Services programs.  "Charitable giving has been at the heart of Bar Harbor Bank & Trust throughout its more than 130-year history and this continued in June with the bank committed $15,000 to support elder service programming provided by Downeast Community Partners (DCP)." said Jack Frost, Vice President and Director of Community Giving said. "We know it is critical to face these challenging times together and we are dedicated to giving back to the communities we call home.  DCP has decades of experience in designing and delivering essential services that aid those most in need across the Downeast Region. We appreciate their work to customize programs and services to best meet the needs of so many individuals and families."
Downeast Community Partners supports elders in Washington and Hancock counties through many of its programs designed to meet basic needs; some programs are specifically designed to meet the needs of local elders.  Friendship Cottage Adult Day Service is located in Blue Hill, and provides dependent adults who may be coping with physical, mental, or memory challenges a safe and caring place to go each week day.
In Washington County, DCP's Elder Services Navigator works with individuals who are struggling to access the services, supports, and resources necessary to remain safely independently living in their own homes.  This service proves invaluable to the participants.  As one recently wrote to DCP, the last thing she does before going to sleep is to thank God for bringing us together.
"One of the most important things that we do as an agency is to care for the Elders in our communities. We accomplish this through a variety of programs ranging from transportation to Friendship Cottage and our Washington County Elder Navigator. We couldn't do this important work without the financial support we get from the community including this wonderful gift from Bar Harbor Bank and Trust. Their generosity and understanding of community needs makes for a great combination!" said Mark Green, Downeast Community Partners' executive director.
Frost continued, "We are pleased to support DCPs' elder services programs which are delivered in Hancock and Washington Counties.  DCP has been leading the way with implementing programs that would otherwise not be available.  They have continued to operate during the pandemic and these services are critical for a thriving community where many reside in remote regions which can be isolating and create substantial barriers to maintaining good physical and mental health.  The additional economic hardships many are facing during the COVID-19 crisis makes it especially critical that we step forward to provide financial support. DCP is doing tremendous work, which has involved modifying programs and services to meet the needs of our neighbors in a safe and respectful way.  We are honored to be considered one of their valuable partners."
For more information about DCP, its elder services programs, and how to donate to DCP, call 664-2424, email administration@downeastcommunitypartners.org  or click here. Downeast Community Partners is a 501 c 3 non-profit corporation.