DCP Now Accepting Donations and Requests for Holiday Gifts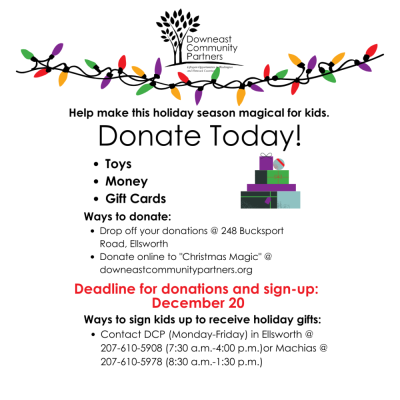 Mon, Oct 23rd, 2023
by DCP Staff
It's never too early to spread a little magic. This week, DCP started preparing for the holidays. This means that we are collecting donations of gifts and beginning to sign up gift recipients.
To donate:
Drop off your donations @ 248 Bucksport Road, Ellsworth
Donate online to the "Christmas Magic"
To sign up to receive gifts:
Contact DCP (Monday-Friday) in Ellsworth @ 207-610-5908 (7:30 a.m.-4:00 p.m.)or Machias @ 207-610-5978 (8:30 a.m.-1:30 p.m.)
The deadline for donations and sign-up is December 20.