Generosity Means More Food for Families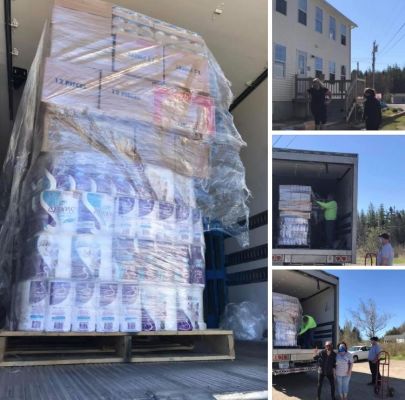 Fri, Jun 11th, 2021
by DCP Staff
Fresh Foods for Families
In May 2021, Downeast Community Partners (DCP) received word that the Good Shepherd Food Bank (GSFB) awarded DCP's Nutritional Services a grant for capacity building.
Heather Barton-Lindloff, Nutritional Services, manager says, "The funding of this project means that we can improve and expand existing services, in turn this means promoting a healthier community."
As families' needs increased during COVID19, DCP expanded food related programs; however, those changes were met with limitations.
During the early phases of COVID19, DCP's Youth and Family Initiative pantries, located in Ellsworth and Machias, began distributing food via delivery but did not have the ability to provide fresh foods as neither pantry had refrigeration. Through GSFB's generous donation, both pantries will gain refrigeration allow the programs to expand food distribution to include fresh foods like cheese, milk, fruits and vegetables.
The award also provides funding to purchase foods. Nutritional Services is actively seeking partnerships with local farms that will result in supporting the local economy while providing fresh food options.
Additionally, in an effort to reduce waste, over the next few months, both pantries will shift to a client-choice model. Client-choice means that families choose what they take home, based on their individual cooking ability and personal tastes. The donation also allows Nutritional Services to expand shelving, allowing the pantries to store more food on-site. This means increasing food choices for pantry clients and improving the Emergency Food Box program. 
The Emergency Food Box program serves anyone who expresses a need. Area first responders and social service providers are encouraged to pick-up a box of shelf stable self-containing meals. Each box contains complete meals to feed three people for four days.
Do you need nutritional assistance? Are you an area first responder who encounters food insecure people? Are you interested in donating your time or resources?
Please visit DCP's Nutritional Services webpage at https://www.downeastcommunitypartners.org/services/community/info.php/Food-and-Nutritional-Services-5/