Weatherization Installer Training Program Underway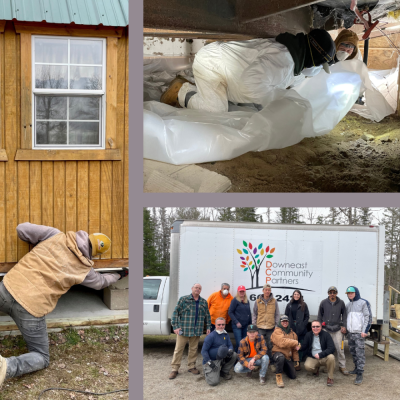 Mon, May 1st, 2023
by DCP Staff
The first cohort of DCP's weatherization installer training program is well underway. The program, which is funded by a grant from the State of Maine, includes two phases. The first phase provides participants with the opportunity to gain skills and certifications necessary to be employed as a weatherization technician, including weatherization fundamentals, building science principles certification, OSHA 10 certification, lead safe certification, CPR and first aid certification, a mobile home weatherization project, and a stick-built home weatherization project. Upon successfully completing this four-week phase, participants are eligible to apply to earn three credits from Washington County Community college.
The second phase of the training program is 16 weeks of on-the-job training working as a weatherization installer under the supervision of experienced weatherization technicians.
This opportunity is full-time, paid, with benefits for the duration that participants are completing both phases of the training program. The first trainees began their participation in the program on February 27 and will complete their participation on July 14.
For more information about the program or to apply to be a participant in the next training cohort, contact Dale Basher, DCP's Director of Housing Services, at dale.basher@dcpcap.org or (207) 610-5924.