Rental Assistance - COVID-19 Rent Relief Program
MaineHousing's Emergency Rental Assistance Program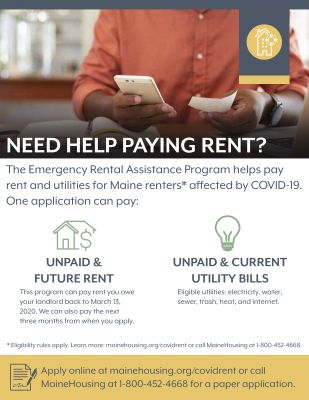 COVID-19 Rent Relief update
The COVID-19 rent relief program re-opened on March 1, 2021 at noon.
Please stay tuned to DCP's social media and this page for program information and updates. 
DCP administers Maine Housing's Rental Assistance Program in Washington and Hancock counties. Applicants must apply on the MaineHousing website.
To apply for benefits, please visit MaineHousing's website, www.mainehousing.org 
The program was designed to assist tenants who cannot afford to pay their rent or utilities due to circumstances related to the coronavirus pandemic. 
You can apply for this program even if you applied and received funds under the other previous programs.
Under the expansion, renters can apply for up to 18-months of rent and utility aid. This includes retroactive payments spanning from April 2020 to current, plus three-months.
The most notable changes to the program are listed below.
·       Previous and new applicants are welcome to apply.
·       There is no monthly rent maximum.
·       The program can pay for some utilities owed back to April 1, 2020. Utilities include electricity, internet, water, sewer, trash, and heat.
·       The program can also pay some late fees.
·       The program can cover relocation expenses.
·       Qualified applicants can receive up to 18-months of assistance.
·       Section 8 participants can now apply for assistance.
 Eligibility
You may qualify if your annual income is within the income limits outlined on the table below. If you can afford to pay your rent from income of any sort or from savings or other liquid assets, you are not eligible. The chart below is for the counties listed and by household family size. 
                          County
Family Size      Hancock      Washington
1                        $39,400       $37,700
2                        $45,000       $43,100
3                        $50,650       $48,500
4                        $56,250       $53,850
5                        $60,750       $58,200
6                        $65,750       $62,500
7                        $69,750       $66,800
8                        $74,250       $71,100


Tenant applicants must meet all of these criteria to be considered for rent relief:
You must have had your income reduced, had significant costs, or had other financial hardship because of COVID-19 OR qualified for unemployment benefits between March 13, 2020 and the date of your application.
You must show you are at risk for becoming homeless or that you might lose your housing. This may include submitting past-due rent and utility bills or eviction notices when you apply.
Mobile Home Pad Rents
If you own a mobile home and rent space in a mobile home park you may be eligible for this program. 
More Info
To apply for the expanded COVID-19 Rental Relief Program, visit www.MaineHousing.org
If you choose to fill out a paper application, please submit it to rentrelief@DowneastCommunityPartners.org.
Applicants living in Washington or Hancock counties, who have submitted an application, and have questions, are encouraged to contact Downeast Community Partners via email at rentrelief@DowneastCommunityPartners.org.